Learn to code with PrepInsta
Check PrepInsta Coding Blogs, Core CS, DSA etc
Learn from blogs on PrepInsta to check Top 100 Codes, C, C++, Java, Python, DSA Competative Coding and more ...
Get 200+ Courses under one Subscription
Courses like C, C++, Java, Python, DSA Competative Coding, Data Science, AI, Cloud, TCS NQT, Amazone, Deloitte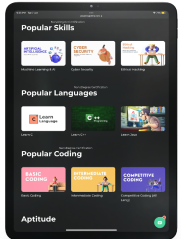 Never Miss an OffCampus Update
Get OffCampus Updates on Social Media from PrepInsta
Follow us on our Media Handles, we post out OffCampus drives on our Instagram, Telegram, Discord, Whatsdapp etc.
Visual Reasoning Questions and Answers
Questions and Answers of Visual Reasoning
On this page you will get to know bout the Questions and Answers of Visual reasoning. It includes the abilities and skills to identify and evaluate the visual data in a sensible and logical manner and answer questions with the help of visual reasoning. 
Note :
These questions comprise identifying relationships, connections, and differences among various shapes and designs, through deliberating visual arrangements and associations between the objects. Such questions include abstract reasoning, analogy type, figure embedding, and paper folding questions.
What is Visual Reasoning?
Visual reasoning is the ability to understand and analyze visual information, patterns, and relationships in order to draw conclusions or solve problems. It's an important skill in fields like art, design, mathematics, and logic.
Rules for Visual Reasoning :
Observe Carefully: Take your time to carefully observe the visual information presented to you. Pay attention to details, shapes, colors, sizes, positions, and any other relevant elements.

Identify Patterns and Relationships: Look for patterns, similarities, and relationships between different elements in the visual. This could involve recognizing symmetries, repetitions, sequences, or other consistent features.

Analyze Symmetry: Determine if the visual has any symmetrical elements or lines of symmetry. Symmetry can provide insights into the balance and organization of the image.

Compare and Contrast: Compare different parts of the visual to identify differences and similarities. This can help you deduce relationships between elements and draw meaningful conclusions.

Consider Scale and Proportion: Take note of the relative sizes and proportions of objects in the visual. Changes in scale or proportion can indicate different levels of importance or hierarchy.

Spatial Relationships: Analyze how elements are positioned in relation to one another. This includes their proximity, alignment, and orientation. Spatial relationships can convey concepts like direction or containment.

Identify Trends and Progressions: Look for trends or progressions in the visual, such as increasing or decreasing values, or a sequence of transformations. These can provide insights into the underlying concept.

Use Analogies and Metaphors: Draw on your knowledge of metaphors and analogies to interpret visuals. Associating the visual with familiar concepts can help you understand its meaning.

Sample Visual Reasoning Questions and Answers

Get over 200+ course One Subscription
Courses like AI/ML, Cloud Computing, Ethical Hacking, C, C++, Java, Python, DSA (All Languages), Competitive Coding (All Languages), TCS, Infosys, Wipro, Amazon, DBMS, SQL and others
Checkout list of all the video courses in PrepInsta Prime Subscription
Checkout list of all the video courses in PrepInsta Prime Subscription