How to Prepare for TCS CodeVita
How to Prepare for TCS CodeVita Season 11
TCS CodeVita has announced it's Season 11 and now you must be thinking "How to Prepare for TCS CodeVita Season 11. "

Don't worry as always PrepInsta is here again with all the updated pattern and information of TCS CodeVita. Go through this page and get all the information of TCS CodeVita along with the updated Test Pattern for season 11.
TCS comes up with this TCS CodeVita because they wanted to make Coding as fun challenge hence they consider "CodeVita – To Promote Programming as a Sport".
How to Prepare for TCS CodeVita?

Before checking How to Prepare, let us First discuss about what is TCS CodeVita?  
TCS CodeVita is a Coding challenge organized by TCS where you can show your coding skills and also get chance to placed in TCS along with various gift Prizes. CodeVita is divided into 3 different rounds:
Round 1 -: Pre-Qualifier

Round 1 Zone 1
Round 1 Zone 2

Round 2 -: Qualifier
Round 3 -: Final Round
Round 4 -: Grand Finale Ceremony

What's in it for students?
Top Coders Get a Global Ranking 

The top three coders will share a total prize pool of USD 20,000.
An opportunity to learn about amazing career opportunities with one of the world's most powerful brands
A chance to compete against some of the world's best coders
A place where you may show off your programming talents
The finalists will have the opportunity to travel to India for the Season 11 LIVE Grand Finale.
NOTE
After clearing each round you will have to give interview and once you will clear the interview then only you will be allowed for next round.
TCS CodeVita Season 11 Test Pattern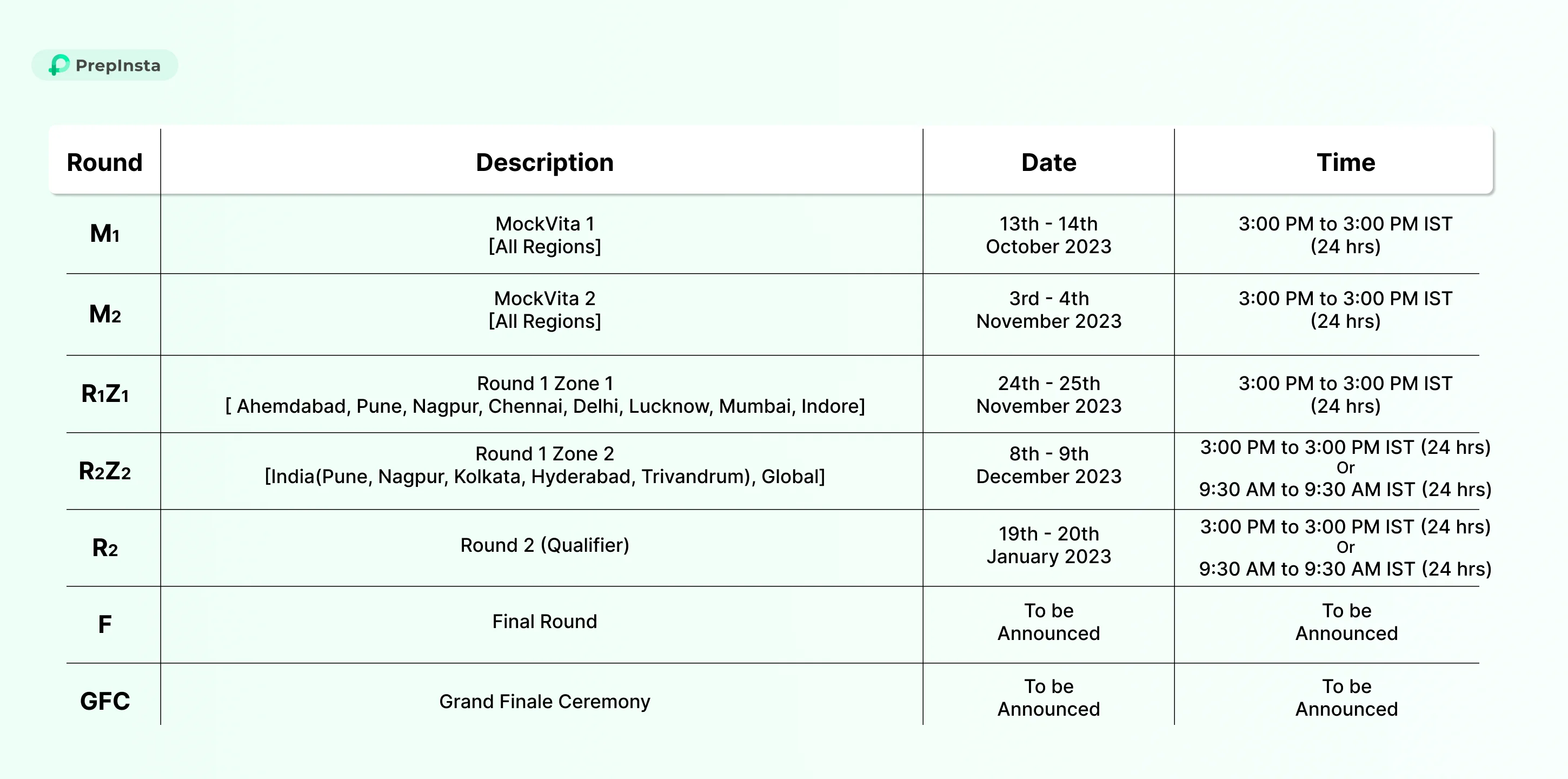 Get PrepInsta Prime & get Access to all 200+ courses offered by PrepInsta in One Subscription
How to Prepare for TCS CodeVita Season 11
Pre-Qualifier Round:
This is the competition's first round.
In this round, competitors must answer six questions within a six-hour time limit.
The participants are not required to answer all of the questions.
In comparison to the other rounds of the tournament, this round has the lowest difficulty level.
Qualifier Round:
This is the competition's second round.
Participants must answer 8 questions in this round, however the difficulty level is significantly higher than the previous one.
If you pass this stage, you will almost certainly be offered a job with TCS, and at a very respectable salary.
Grand Finale:
All the previous round including this one will be online.
The participants must answer ten questions in this round.
If you pass this round, you'll get a nice cash bonus and a great job offer from TCS.
Use Coupon Code "CT10" and get a flat 10% OFF on your Prime plus one month extension on 12 months and above plans.
TCS CodeVita Season 11 Test Pattern
TCS CodeVita Important Dates
FAQ's on How to Prepare for TCS CodeVita
What are the different languages in which one can code in TCS CodeVita?
All the students will get 8 different programming languages to opt between:
C
C++
C#
Java
Ruby
Perl
PHP
Python
What are the benefits one get by giving TCS CodeVita?
There are many benefits for students and all benefits are listed here on this page. Few pf them are:
Top Coders Get a Global Ranking 
The top three coders will share a total prize pool of USD 20,000.
An opportunity to learn about amazing career opportunities with one of the world's most powerful brands