Crack Capgemini with
Prime
for Capgemini
83% of prime members learners got selected in Capgemini
7 out of 10 fresh grads in Capgemini are from PrepInsta
5,456+ bought in last 1 month
Capgemini Prime Mock Subscription will give you access to over 300+ topic wise Mocks, Previous Papers and Analytics
Structured Course
300+ Capgemini Topic wise Mocks
Validity
1 year of unlimited validity for Capgemini Prime Mock
Free Mock Subscription
300+ Capgemini Topic wise Mocks along with Analytics
---
In this section you will learn all the tips and tricks related to Aptitude Test based on games.
The following are some Games asked in Capgemini test previously
Deductive Logical Thinking(Geo-Sudo)
Inductive-logical Thinking
Grid Challenge
Motion Challenge
Switch Challenge
Digit Challenge
There are 18 more such games in Capgemini Game Based Aptitude Test.
This is a personality development test, or you can say Psychometric Test, where there are questions that you have to answer whether you agree or disagree with that question. This test is there to mainly test your decision making and memorization skills, as there may be chances that the same question will be asked again but in a twisted way, and you are supposed to answer the same option which you previously did
Price Increaseshttps://prepinsta.com/capgemini/prime-mock/#gotopurchase in
from Rs.699 to Rs 1999/-
    5,456+ Purchases in last 1 month
Question Level Analytics
Check how other students performed , in comparison to you for a question
Performance Report
Check your Realtime ranking and get to know before exam, if your going to get selected or not??
Price increases in
Mock
Mock Subscription
100% Money Back Guarantee
---------------------------------------
Don't like our course, no questions asked refunds*!!
Smart Analytics and Dashboard included
     5,456+ Purchases in last 1 month
What PrepInsta's Prime Video Sub includes?
Mocks
Capgemini- 300+ Topic wise Mocks
Pseudo Code & Data Structures - topic wise mocks
English Communication - topic wise mocks
Aptitude Test (Game based)- full mocks
Analytics
Smart Dashboard Access
Detailed time based Performance
Performance Dashboard Access
Global Percentile Data
Prime Video Subscription

for Capgemini

Prime Mock Subscription

For Capgemini

Royal Pass Subscription

All Companies

Validity

1 Year

1 Year

1 Year

Company

for Capgemini

for Capgemini

Yes, for all 100+ companies

Videos

Yes

No

Yes, for all 100+ companies

Mocks

Yes

Yes

Yes, for all 100+ companies

Resume Building

No

No

Yes

Actual Price

Rs 6999

Rs 1999

Rs. 15999

Discounted Price

Rs 1999

Rs 699

Rs. 4444
Sahil Singh
Placed in
Capgemini
Prime
Thank god I found PrepInsta for my preparation for Capgemini Drive. Mock of PrepInsta helped me a lot in my studies and the most helpful part was Analytics function of the PrepInsta' website. Thank you once again PrepInsta.
40,000+
Active
Prime Members(Capgemini)
83%
Prime Members
Get Selected in Capgemini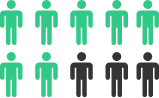 7 out of 10
Freshers in Capgemini
are PrepInsta Students
Frequently Asked Questions
Ans. Capgemini has been using CoCubes as the first round of the placements since the last few years in Capgemini Test Papers with Solutions Thus you should be studying from CoCubes CapGemini Previous year papers.
Ans. In the Aptitude test for Capgemini, all topics are equally important but you can focus more upon according to the Table above and easily you should be able to clear Capgemini Aptitude Test Papers.
Ans. For solving Capgemini Logical Reasoning Questions with answers I will suggest to solve and practice as many questions as you can to increase accuracy and time management.