Mu Sigma HR Round Interview 2019-2020
Mu Sigma HR Round Interview 2019-2020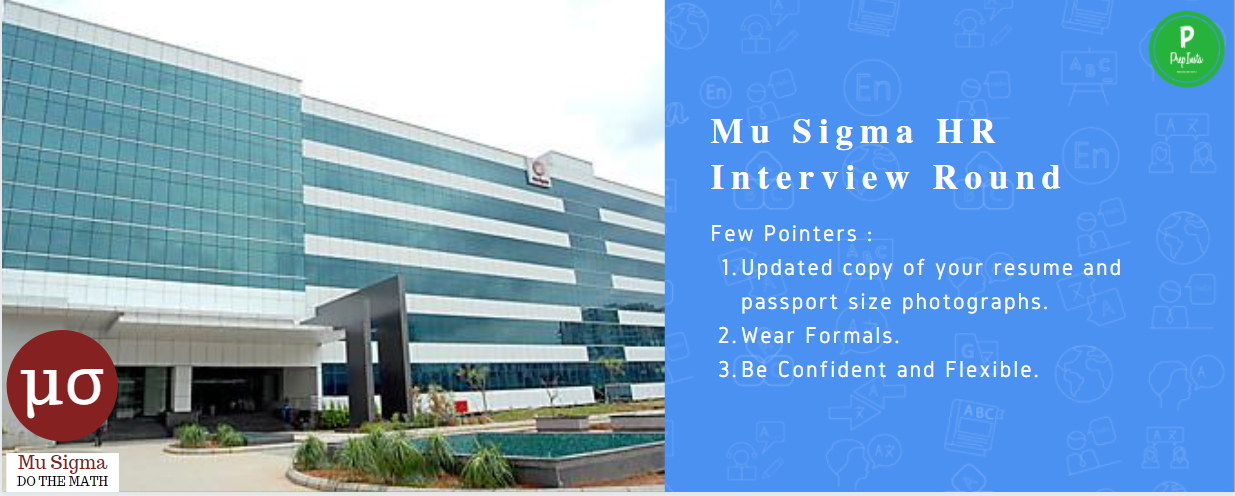 Once you pass all the above rounds, the last one is a piece of cake. It's just a final formality and they would only ask basic HR questions. But don't take it too lightly.You should be well prepared about yourself. You must have good knowledge about the role of job for which you have faced interview, search about that company before going to interview. The time will be up to 8-10 minutes
Few Pointers :
Just be genuine and be yourself and be cool and calm.
Never lie in the interview and if you are bluffing be sure you are prepared for the follow up questions.
HR Interview Round Questions and Answers
Some of the frequently asked questions in Mu Sigma HR interview round :
1.) Tell me about yourself and your background
Here try to be as brief and as much specific as you can. Like do not tell a lot about your family. Make sure not to tell anything technical in this intro try to impress him/her by telling about your hobbies your achievements in school as well as college life with proper explanation.
2.) Tell me about your academic carrier
Mention your percentages or C.G.P.A as awarded by your college. Mention your backlog, if any. Also mention few subjects in which you have keen intrest.
3.) In which technology you are good.
Mention the language or any other technical field with which you are comfortable like C, C++, Android, Verilog, IOT etc.
4.) What do you know about this organization?
Do read few things about the company for example its CEO, latest technology or projects the company is working, branches etc.
5.) Will you relocate in future?
Always say yes for this question.
6.) What are your strength and weakness?
Describe your strength like you are disciplined, you do not waste time, goal oriented etc. and in your weakness you should mention things which do not have relation with your job so that it can't have a negative impact on your job.
7.) What is your dream job?
I want to do the job as a well-skilled software developer in an organization where I will be a well- respected team leader with the renowned personality.
8.) Have any question me i.e for interviewer?
Ask if you have made any mistake during the whole interview do not ask whether you will get selected or not.
Note: You can also  check the technical interview question and answer round by clicking on the button mentioned below